AIR NIUGINI DESTINATIONS WELCOMES BACK AXELLERATE SPORTS AS PARTNER
September 30, 2022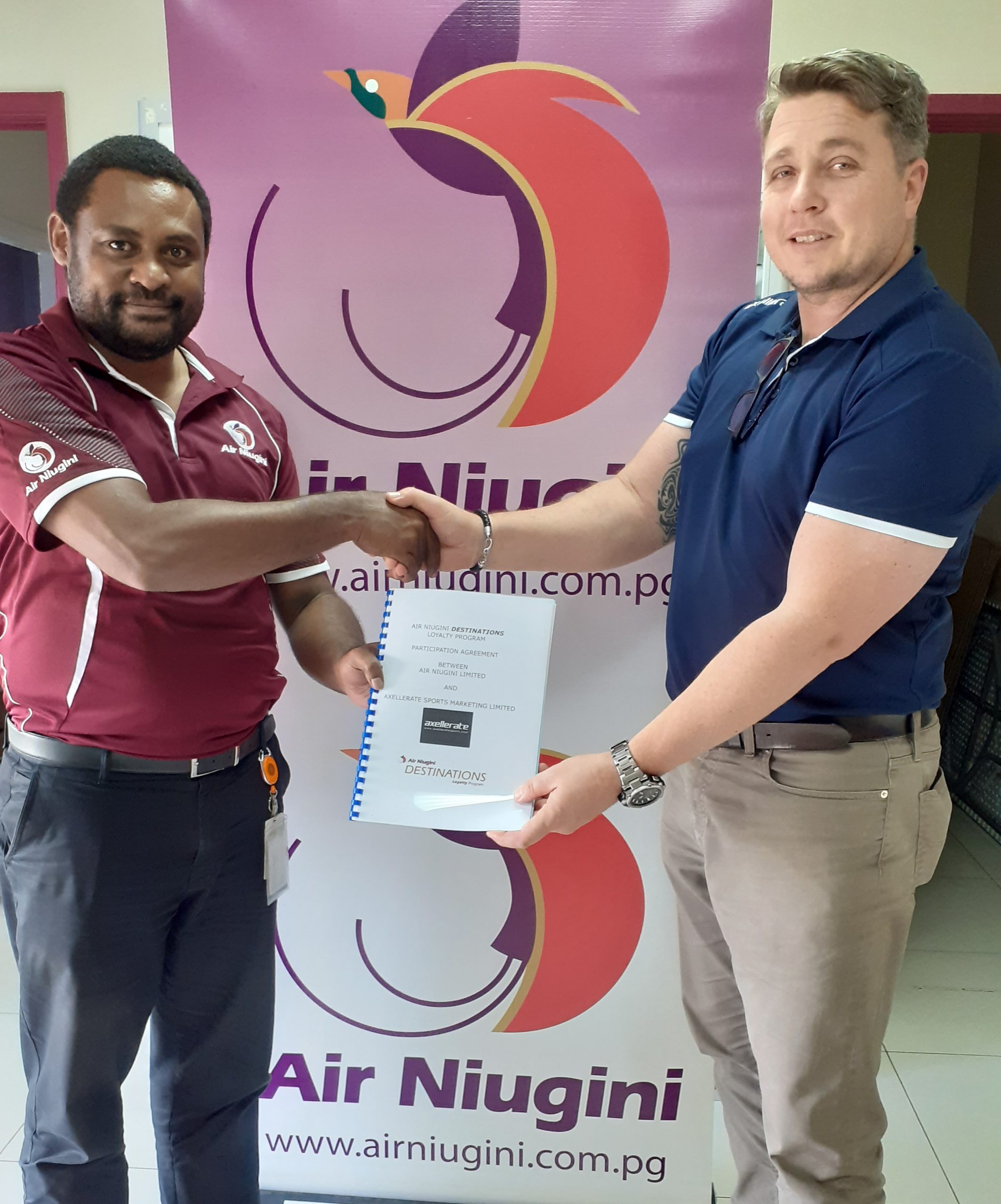 Air Niugini Destinations Loyalty Program continues to increase its program partners as it welcomes back on board Axellerate Sports.
Axellerate Sports is offering members of Air Niugini's loyalty program the opportunity to earn and redeem Destinations points for specified products.
Items include wheeled luggage bag, travel gear bag, runners, polo shirts, trucker caps, soccer balls, rugby league balls and netballs.
Air Niugini Chief Executive Officer, Mr Bruce Alabaster welcomed back Axellerate Sports to the program highlighting the need to have a variety of avenues for members to earn and redeem points.
"The Destinations Program now has a total 10 corporate partners for earn and redemption of loyalty points. We are grateful to have Axellerate Sports on board providing a wide range of products where members can earn and redeem their points. The program aims to establish more corporate partners throughout the country," Mr Alabaster added.
Axellerate Sports Executive Director, Mr Anthony Toscano said it was great to be back onboard with Air Niugini the National Flag carrier of Papua New Guinea.
Axellerate Sports welcomes all the Air Niugini Loyalty members to stop in at the Taurama Aquatic Centre, 3 Mile Port Moresby where the Axellerate Shop is located to check out these great genuine items.
Members must present their physical membership card, virtual membership card or membership number with identification at the point of sale in order to earn points.
For redemption, members will select items by requesting and authorizing via email to the Destinations Loyalty Program office to purchase those products using points.
Members are sent an electronic voucher specifying clearly the item they have purchased and will typically have 1 month to utilise the voucher.
Air Niugini's Destinations Loyalty Program currently has over 123,000 active members since it was launched in August 2009.
Corporate Communications Department
Thursday 29th September, 2022