Air Niugini Trains More Rural Sales Agents
October 31, 2019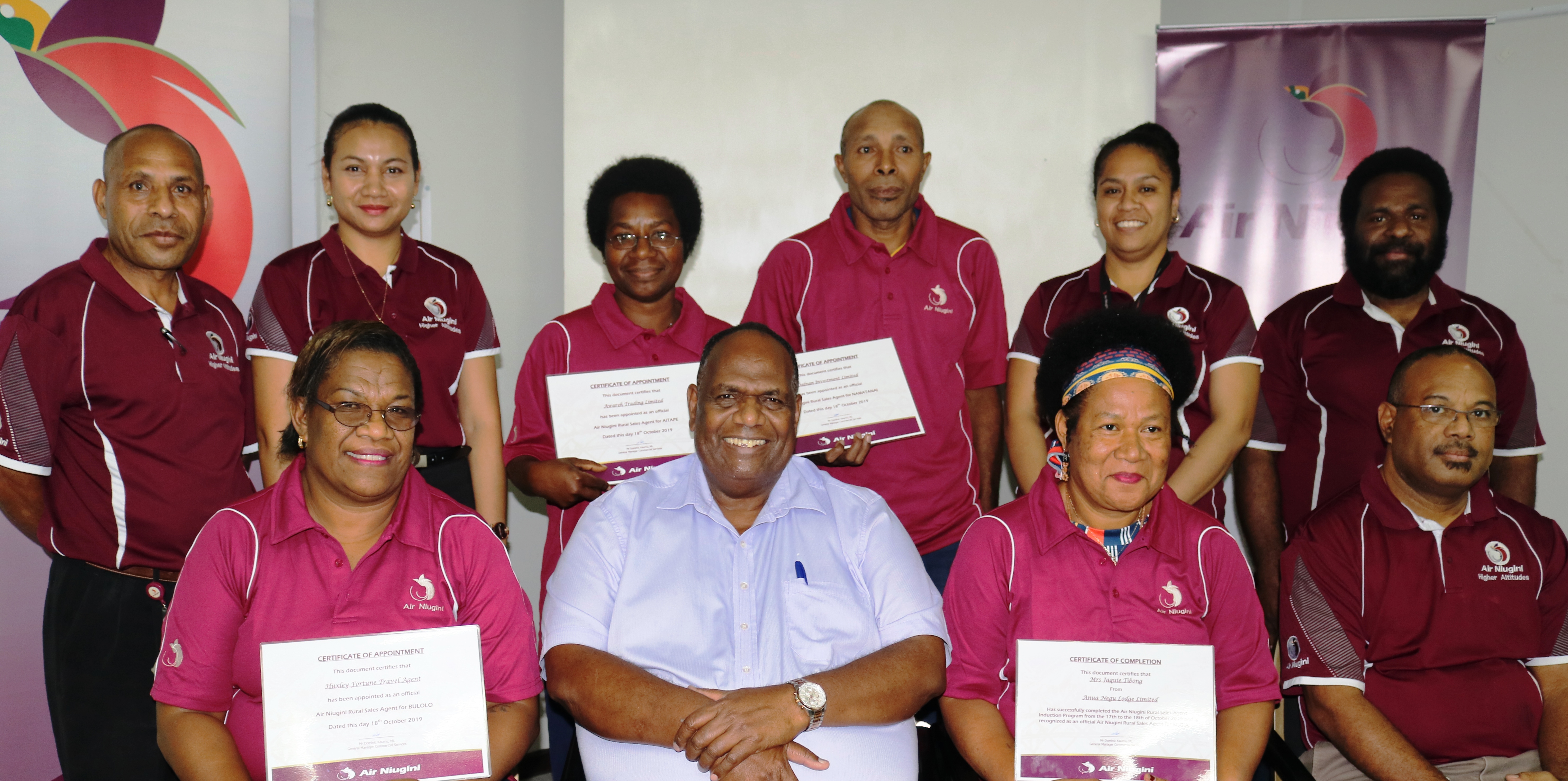 Air Niugini has successfully completed training for eight staff from the four recently appointed Rural Sales Agents (RSAs) who will represent the airline by providing its services including making reservations and selling airline tickets to people in rural communities.
RSAs are local business men and women in rural communities whom Air Niugini has identified, trained and equipped with tools to act on behalf of the airline.
This is part of Air Niugini's focus on bringing its services closer to the people by allowing small to medium sized enterprises (SME) to be part of Air Niugini's growth as the airline belongs to the people.
The recently trained RSAs are based in Bulolo in Morobe, Aitape in Sandaun, Bogia in Madang and Namatanai in New Ireland Province, bringing to total 11 Air Niugini rural sales agents throughout the country.
The other areas are Banz and Kudjip in Jiwaka, Kainantu in Eastern Highlands, Ialibu-Southern Highlands, Bialla -West New Britain, Maprik in East Sepik and Pomio in East New Britain Province.
The training covers basic aspects of the business including ticketing and reservation, online booking, customer service, cargo acceptance process and procedures as well as dangerous goods acceptance.
Air Niugini's General Manager, Commercial Services, Dominic Kaumu in presenting the certificates, highlighted that by bringing the airline services right into rural areas, it ensures convenience as people do not have to travel long distances and incur more costs to get into towns and urban areas to purchase an airline ticket.
He said "It is therefore important that you as a representative of Air Niugini must be well versed with the basic airline product knowledge so that you can better serve people in your community. With the festive peak period coming up, we expect the demand to be high and it's an opportunity for you to provide that service. "
"The opportunity is there to help, compliment and support your existing business and we will monitor and track your progress," Kaumu said
Air Niugini's Executive Manager, Sales and Distribution Charlie Wanma reaffirmed his team's continuous support and commitment for the RSA project.
Wanma said," The selection process has been consistent, rigorous and we are very committed since the start to successfully deliver this program and we expect the same from you. Our success is your success and we welcome you on this journey."
On behalf of the RSAs, Sandii Iru Tamai from Bulolo thanked Air Niugini for the opportunity, trust, confidence and commitment to reach out to people in rural areas.
"We will try our outmost best given the opportunity to represent Air Niugini and provide services on its behalf." she said.
Air Niugini plans to establish an additional ten(10) Rural Sales Agents depending on the need and demand of the population that is away from existing Air Niugini sales office.
Corporate Communications Department
Thursday 31st October, 2019