Air Niugini's Father And Son Pilots Flying Together For The First Time
February 8, 2019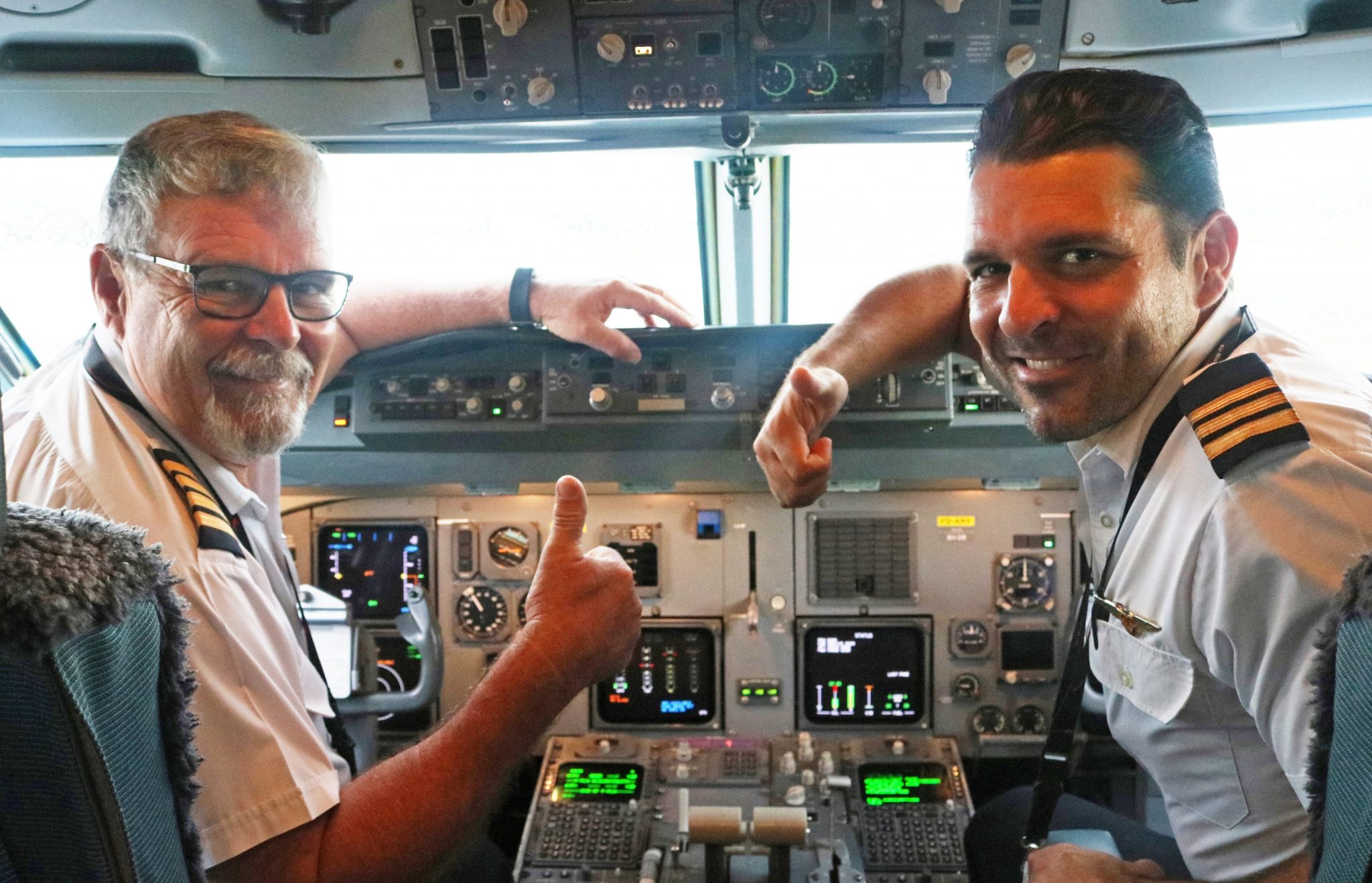 Two Air Niugini pilots have made history when they operated their  first commercial flight together as father and son last Friday, 01st February 2019.
It was a proud moment for First Officer (FO), Christian Yates Round and Captain Mark Yates Round when the father – son duo proudly operated PX 208 on a Fokker 70 aircraft from Port Moresby to Lae, then Hoskins, Rabaul and back to Port Moresby. Following that, they also operated PX 244 that same afternoon from Port Moresby to Hoskins where the aircraft stayed over-night – this particular flight was made even more special, with Mrs Jernin Yates Round joining her husband and son as a passenger on the flight.
"I wasn't sure we would ever get to fly together, if the schedule would work out but I always look forward to an opportunity like this, hoping that one day it happens and thanks to Air Niugini. It's an experience of a lifetime to have flown together with dad." Said FO Yates Round
FO Yates Round first took an interest in aviation as a child living in Port Moresby in the 1990's where his father on numerous occasions took him flying with Air Niugini. After deciding that he would like to fly as well, FO Yates Round joined the Royal Australian Air Force in 2001. Christian flew C-130J Hercules for twelve (12) years, including six tours of duty in Iraq and Afghanistan, as First Officer for the first three tours and later as a Captain for the remaining three tours. Prior to leaving the Air Force FO Yates Round gave back by working in Training and Checking to develop and mentor new crew. In 2014, and with his father being at ANG, it was only natural for Christian to come back and fly with ANG as well. Unfortunately Christian had to leave ANG in 2015 due to personal circumstances, but was very happy to return in July 2018.
He said "Air Niugini holds a special place in my heart, it provided for my education. It is so knitted and the opportunity to fly together with dad wouldn't have been possible if it was with other airlines."
Captain Yates Round on the other hand started work with Air Niugini in 1989 from a charter/corporate background as a First Officer on F28s.  He moved through the ranks as a Captain on Dash-7, Dash 8 and F28 aircraft. He left ANG in 2000 in order to expand his skill set by flying in different parts of the world before retuning to ANG in 2008 where he took on a training and checking role on the Dash-8s. Through the next few years, Captain Yates Round played a role in developing the new cadets before moving up to the Fokker 100 in 2014, where he has been flying since.
"Today was a culmination of my flying career, an amazing experience and a proud moment for me to have my son and I flying a commercial flight together, it's something we will never forget."
" We thank Air Niugini for the opportunity. Also if I could add, Air Niugini provides an exceptional training ground for any pilots, the crew are well trained, it is entirely up to individuals to take up the opportunity." Captain Yates Round concluded.
Corporate Communications Department
Thursday 07th February, 2019