Air Niugini's Inhouse C Check Nearing Completion
September 10, 2018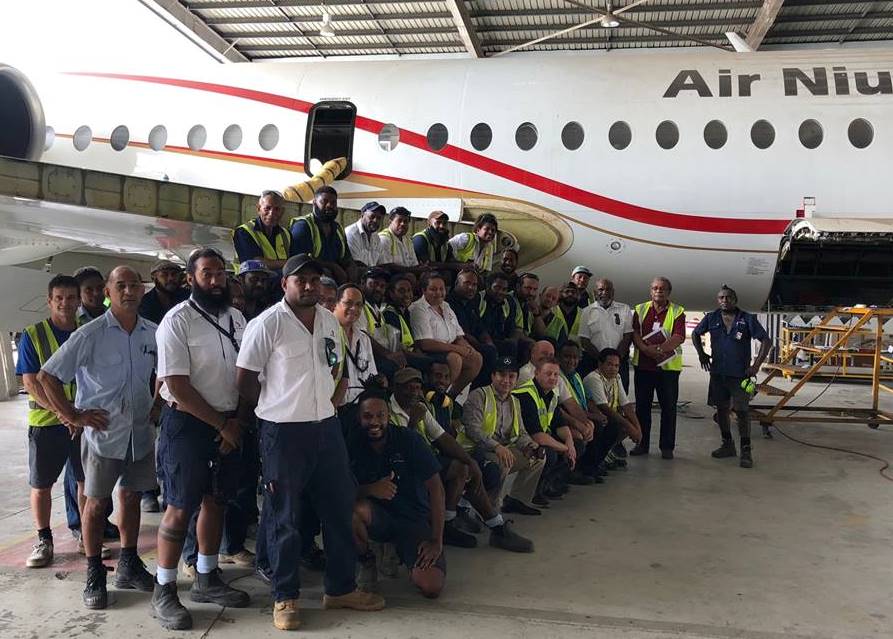 Air Niugini's inhouse C checks or heavy maintenance checks on its jet aircraft at the airline's engineering hangar in Port Moresby is nearing completion, a result of great team work that is saving Air Niugini millions of kina.
Two heavy maintenance "checks" are being carried out at the moment, one on Fokker 70 aircraft, P2-ANR which commenced in July this year and is on target to be completed by October and the other on Fokker 100, P2-ANU expected to be completed by the end of November. P2-ANR is the first ever Fokker 70 check being carried out in-house.
Air Niugini's Licensed Aircraft Maintenance Engineer (LAME) in charge of Heavy Maintenance, Richard Woolcock said the team involved in the project appreciates the trust and confidence that has been placed on them by Air Niugini to get the C checks done on shore.
Mr Woolcock said " The staff are hard-working, very keen and have great engineering skills and knowledge and prepared to tackle any job given them from wiring up the latest Wi-IFE system to removing the cabin, galley and toilets in the aircraft."
"The project has given the staff involved, the chance to look into the aircraft in greater detail than they would in a normal day to day business of maintenance. Upon completion, I believe we are giving back better aircraft that can continue service for longer period."
A 'C' Check is the most in depth type of maintenance that can be carried out on an aircraft. Basically, engineers take off every part fitted to the aircraft, inspect both the removed parts and the aircraft for damage, wear , corrosion  and general condition then either repair in house or get new parts. When the aircraft leaves the hangar at the end of its check, engineers ensure it near to "As New" as possible so that the aircraft can keep flying and passenger safety is guaranteed.
Acting Chief Executive Officer, Mr Tahawar Durrani said another two Fokker aircraft are in the plan to be worked on this year, adding that as the maintenance staff experience grows so the time taken to complete each check can be reduced but maintaining the high work standards that are expected by Air Niugini.
He also said other operators of Dash 8 in the region are showing interest in what Air Niugini is doing.
" If we can build on this interest to actually get them to come to Papua New Guinea for work to be carried out, this will be bonus for the country and particular Air Niugini. It also goes to show how much aviation has grown in this country."
The in-house C checks arrangement is saving Air Niugini K2.5million each time an aircraft goes in for heavy maintenance. Previously the aircraft had to be sent overseas for such maintenance, which is very expensive for Air Niugini and the country.
Corporate Communications Department
Monday 10th  September, 2018