AIR NIUGINIíS LOYALTY PROGRAM RENEWS PARTNERSHIP WITH PACIFIC MMI
June 27, 2022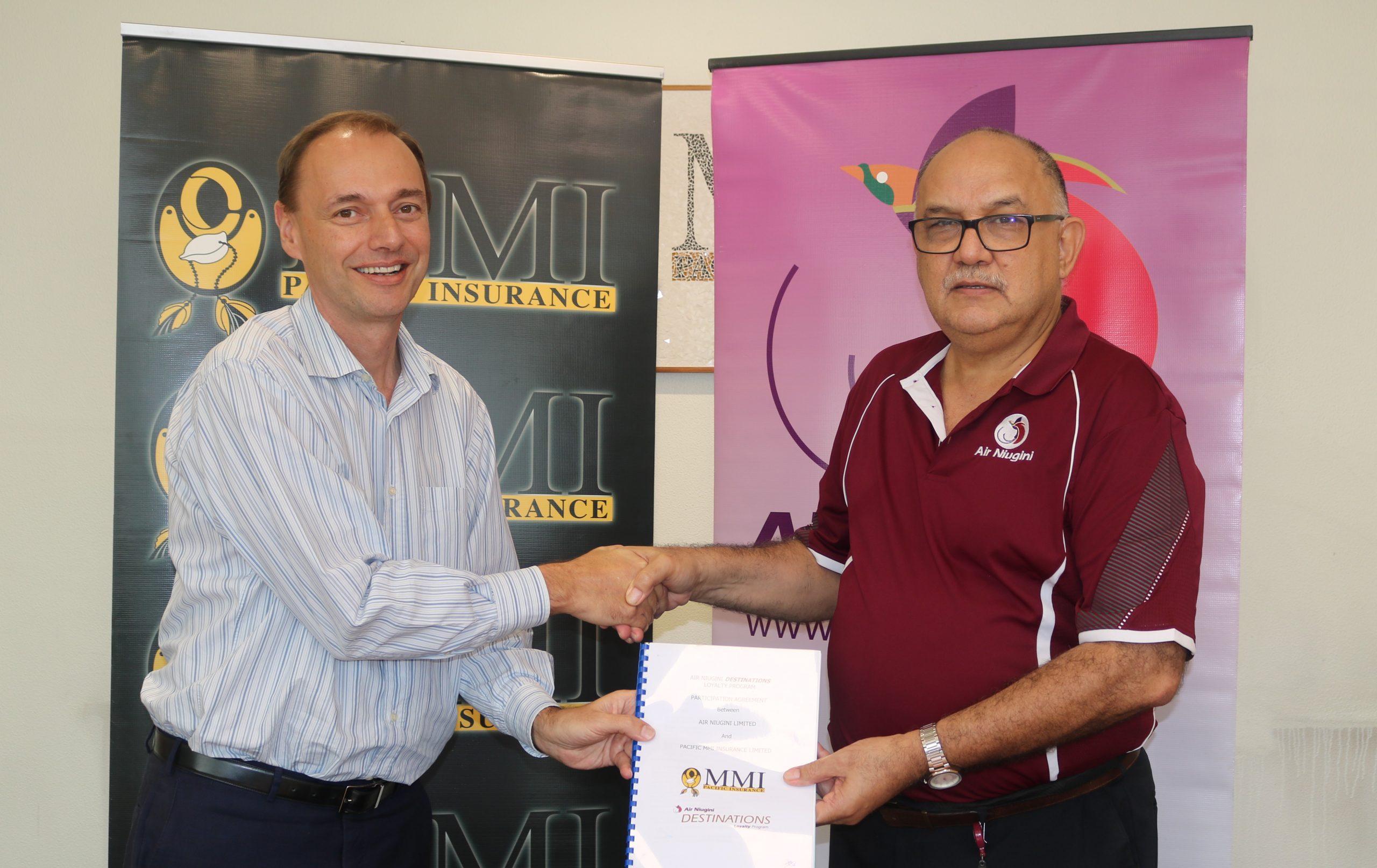 Air Niugini Destinations Loyalty members have the opportunity to earn Loyalty points when they purchase any of the four Eligible Insurance Policies through Pacific MMI Insurance Limited.
This follows the renewal of partnership between the two organizations in Port Moresby recently, bringing the total Destinations corporate partners now to 12.
The Eligible Insurance Policies cover Home Insurance, Motor Vehicle Insurance, Term Life Insurance and Personal Accident Insurance.
The extended two-year partnership between Air Niuginiís loyalty program and Pacific MMI aims to encourage members to use Pacific MMI services to insure themselves and their assets and also to strengthen the partnership between both State-Owned Enterprises (SOEs).
Air Niugini Chief Executive Officer, Mr Bruce Alabaster said the joint partnership demonstrates the importance of SOEs working together for and on behalf of the government to promote growth and development in all areas of business.
He said ďAir Niugini is grateful to be supporting Pacific MMI in this joint venture. The insurance sector, as we all understand helps provides financial security for individual staff and families during difficult times. For those Loyalty Program members who are yet to be insured and may be planning on doing so, this maybe an opportunity for you and your familyĒ
Mr Alabaster also encouraged Pacific MMI members who are not part of the Destinations Loyalty program to sign up to be eligible to earn Loyalty points through this partnership.
Destinations members must present their membership card or quote their membership number with a form of identification when paying for the Eligible Insurance Policies in order to earn Loyalty points.
Pacific MMI Limited Chief Executive Officer, Karl Hamann said, ď Air Niugini being the premier airline in PNG, we are pleased to renew our partnership with the national airline.† This is aligned to our purpose of making insurance relevant and accessible to all Papua New Guineans.Ē
Pacific MMI is one of the largest insurers in PNG and has been operating here since 1998. It is 100% Government owned, holds both General and Life insurance licenses and offers range of personal, commercial and corporate insurance products.
Pacific MMI is the third SOE to partner with Air Niugini apart from Telikom Limited through the Destinations Loyalty Program and Post PNG Limited that came on board as a sales agent for Air Niugini tickets.
Air Niuginiís Destinations Loyalty Program currently has over 123,000 active members since it was launched in August 2009.
Corporate Communications Department
Monday 27th June, 2022