Port Moresby Naturally by John Wright
July 6, 2015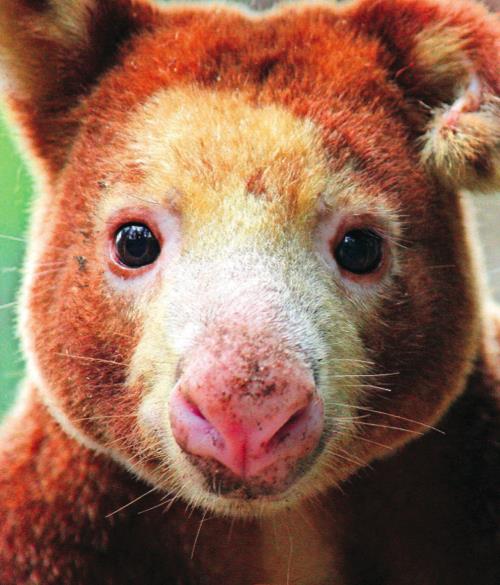 Port Moresby has a lot of value as a (tourist) destination, but it has been painted in such a negative light over the years,'' says Michelle McGeorge. "You know … the idea that there is nothing to do here, that it's unsafe.
"But people often use information that isn't current. Port Moresby is changing. The challenge is to show people that this place is not all
 the bad stuff you've heard about in the past 20 years.''
McGeorge, general manager of the Port Moresby Nature Park, in Waigani, knows what she's talking about. A former wildlife sanctuary manager from Brisbane, she arrived in Port Moresby with her zoologist husband, Brett Smith, in 2010 with a job to do: to find a way of transforming the moribund National Capital Botanical Gardens into an attraction worth seeing. There was a lot to do.
Established in the national university grounds in 1971, the gardens had seen their heyday as a showcase for PNG's tropical plants and a desirable tourist attraction. They'd fallen into decline, with little direction and no business mission. The National Capital District Commission, which was responsible for the gardens, needed a strategic review and gave McGeorge and Smith a year to do the job.
Four years on, they're still at the park (renamed in 2012) and continuing to plan future strategies, having presided over an astonishing transformation in its fortunes. The nature park – PNG's only combined zoo and botanic garden – is now one of the most popular tourist attractions in the country and arguably the best in Port Moresby. Visitor numbers are three times what they were in 2010 and increasing steadily. What has happened?
Well, in a word, everything. Just yesterday, it seems, the old botanical gardens were included on Port Moresby day tours almost by default, a generally uninspiring and unexciting place that locals used for picnics but about which visitors found little to write home.
Now, thanks to a new business model as a charitable trust, more than PGK4 million in corporate sponsorship and proactive government involvement, the site is almost unrecognisable. New infrastructure includes a smart entry precinct with an al fresco cafe, gift shop and offices, a network of attractive pathways and boardwalks, permanent cultural displays and a children's educational playground.
But the park's living attractions – its birds and animals (many of them threatened or endangered in the wild) and its wonderful array of tropical trees and plants, including thousands of orchids – are the stars at Port Moresby Nature Park, and they combine beautifully to form a fine tourist snapshot of PNG's natural riches.
The 12-hectare park, which is aiming for full international accreditation as a zoo, has 60 animal species (about 280 animals in total). It is the only site in the country to conduct breeding programs, and the only place in the world where you can see all three species of cassowary.
Its rainforest tract, a survivor from the park's early days, is unique in Port Moresby, and its estimated 11,000 orchids include many native only to PNG.
The star exhibits include rare grey dorcopsis wallabies, agile wallabies from lowland PNG and northern Australia, endangered Huon tree- kangaroos, the cassowaries, birds of paradise, Papuan hornbills, Victoria crowned pigeons (the park has bred these birds), parrots and numerous other PNG wildlife species.
A new reptile enclosure will be built this year to house a collection of snakes, lizards and crocodiles.
As a microcosm of the country's incredibly rich and diverse flora and fauna, the park offers a chance for travellers to get a taste
of the country in one simple hit if that is all they have time for. Recognising this, the park offers transfers from and back to the airport for people who want to make the most of their time in transit.
This is helping to improve Moresby's image with tourists, but the park's commitment to education and conservation will have a more profound effect on a national level.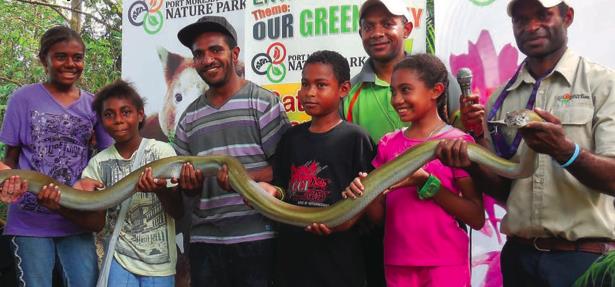 Paradise Magazine, May/June 2015 edition