Book online to enjoy our special domestic fares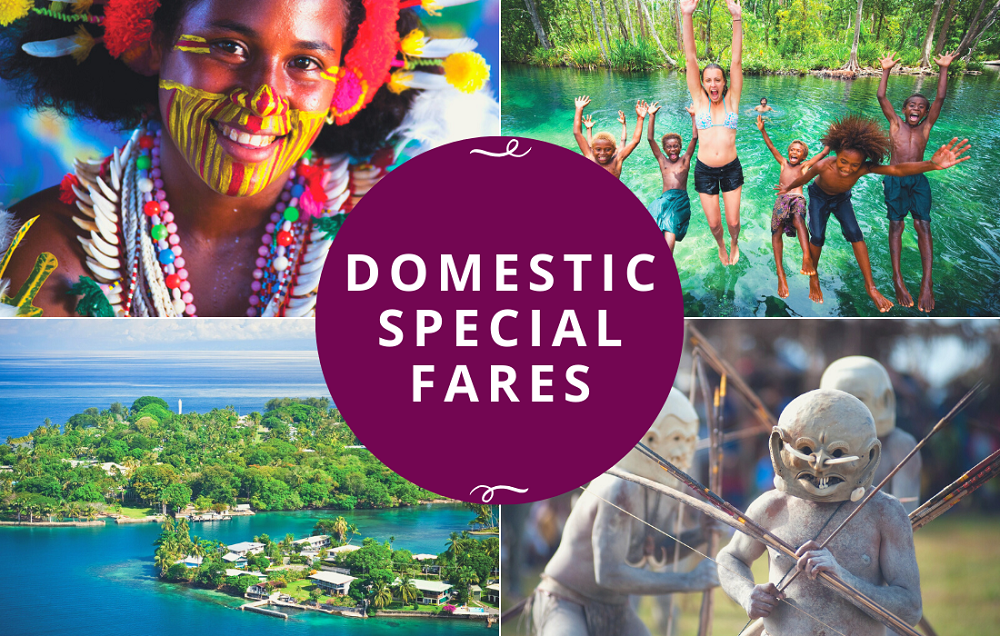 Special Fares To and From Port Moresby
To
One-Way*
Return*
Travel Frequency
Hoskins
From:   K547
From:   K1,051
MON, TUE, WED, THU, FRI, SAT, SUN
Rabaul
K591
K1,128
MON, TUE, WED, THU, FRI, SAT, SUN
Manus
K596
K1,137
MON, TUE, WED, THU, FRI, SAT, SUN
Kavieng
K660
K1,264
MON, TUE, WED, THU, FRI, SAT, SUN
Lihir
K805
K1,610
TUE, THU
Buka
K712
K1,364
MON, TUE, WED, THU, FRI, SAT
Lae
From:  K436
From:  K836
MON, TUE, WED, THU, FRI, SAT, SUN
Madang
K492
K941
MON, TUE, WED, THU, FRI, SAT, SUN
Wewak
K573
K1,059
TUE, WED, THU, FRI, SAT, SUN
Vanimo
K662
K1,221
MON, TUE, WED, FRI,  SAT, SUN
,
Popondetta
From:   K296
From:   K592
MON, TUE, WED, THU, FRI, SAT, SUN
Tufi
K352
K704
MON,FRI
Alotau
K439
K913
MON, TUE, WED, THU, FRI, SAT, SUN
Daru
K337
K674
MON, WED, FRI
Kiunga
K919
K1,837
MON, WED, THU, FRI, SAT, SUN
Tabubil
K881
K1,762
MON, WED, FRI, SAT, SUN
Mt. Hagen
From:   K497
From:   K951
MON, TUE, WED, THU, FRI, SAT, SUN
Goroka
K454
K843
MON, TUE, WED, THU, FRI, SAT, SUN
Tari
K727
K1,455
MON, WED, FRI, SUN
*Limited seats. Book early to grab these special fares
Terms & Conditions
---
Valid on Economy class one way and return tickets purchased online at www.airniugini.com.pg
These special fares are Inclusive of all taxes and surcharges
No promotion code is required to avail this special fare when booking online
Seats are limited and are subject to availability at the time of booking
Standard terms and conditions and fare rules will continue to apply. Please read the fare conditions online at the time of purchase as fare rules vary by ticket and destination.
Air Niugini Limited reserves the right to withdraw all or any of the rules applicable to the above offers at any time at its sole discretion without prior notice.
---
Enquire about this offer
Complete your details below to enquire about this offer. A representative of Air Niugini will respond to your enquiry as soon as possible.