Travel and Win! Business Class Upgrade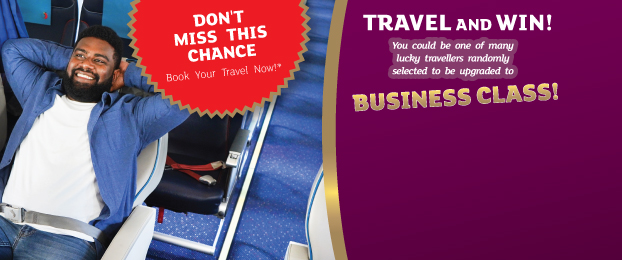 This could be you seated in the comfort of a Business Class Seat!
When you purchase your Air Niugini ticket for travel any time before the 31st of October, you could be one of many lucky travellers who could be randomly selected to be upgraded to Business Class!!
Imagine sitting in a more spacious, comfortable seat that not only has ample leg room, it also has USB ports so you can keep your phone charged up for the mandatory selfie to show to your wantoks!
So Hurry and book your travel now for September & October!
This offer is available for our domestic flights operated by Fokker aircraft. The selection will be made prior to check in and subject to availability, so you could be pleasantly surprised when you next travel.
Thank you for choosing to fly with Air Niugini!
 Happy travelling!
Terms & Conditions
---
Conditions Apply: Offer is available up to 31st October, 2020 applies to domestic flights operated by Fokker aircraft. Due to Pandemic Orders, in-flight catering will not be available. Subject to availability. Upgrades will be made prior to the flight and are not available at the time of check-in. Applicable fare conditions apply.
---
Enquire about this offer
Complete your details below to enquire about this offer. A representative of Air Niugini will respond to your enquiry as soon as possible.