Plan & Book
Pay Conveniently with BSP Mobile Payment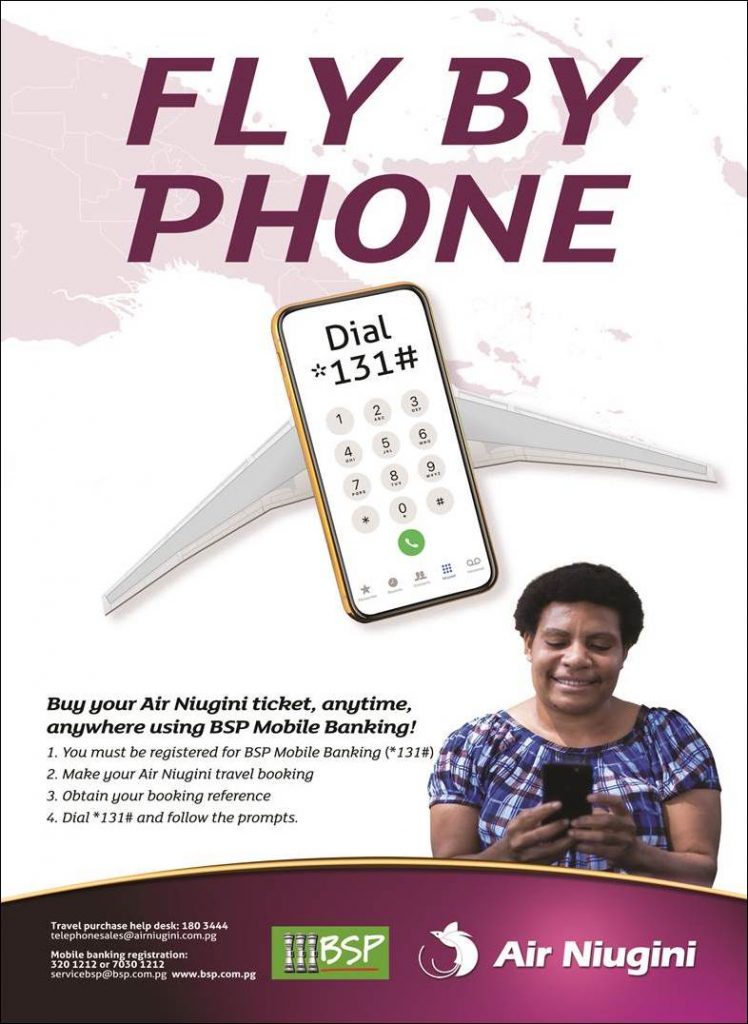 BSP's (Bank South Pacific) Mobile Banking brings a greater convenience to all Air Niugini customers who can now pay directly from their bank accounts using the mobile!
BSP Mobile Payment option is available for all bmobile-Vodafone and Digicel subscribers, registered for BSP Mobile Banking.
Register for BSP Phone Banking;
If you are not a BSP Mobile Banking Customer, you must register.  Call the BSP Service Centre on 320 1212 or 7030 1212 or email

servicebsp@bsp.com.pg

to register.
BSP will send an SMS to your mobile number to confirm your registration
Once your registration is complete, you must activate the service. Dial *131# and follow the prompts.
When your registration and activation is successful, you may proceed with Air Niugini ticket payments.
Make Your Flight Bookings either by;
Visiting your local Air Niugini Travel Centre
Calling our Toll Free Number on 1803444 or 7104 3444
Booking online via www.airniugini.com.pg. Follow the steps to book your flight. When it comes to confirming payment, select the 'Book Now Pay Later ' option
Note: Fare Conditions will apply if special fares are booked. There are daily limits on how much can be transacted for mobile payments for airline tickets.
Making Payment via Mobile Banking;
From the booking steps above, you will have received a Booking Reference. Use this reference to organise payment via Mobile Banking.
Dial *131# and follow the prompts
Reply 4 for Payments
Reply 1 for Ticket Payment
Reply 1 for Air Niugini
Enter Booking Reference
Reply 1 for Flight Details
Reply 1 to Confirm
Reply 1 Accept and Pay
Once the transaction is complete an SMS containing your e-ticket details will be sent to your phone number.
Checking in for Your Flight;
The e-ticket details received on your phone can be used to check in at the airport. However if you require a print out, call into your nearest Air Niugini office and request for a print out or simply use the Manage Booking option via www.airniugini.com.pg to retrieve an e-ticket copy.