2019 Corporate 9S Pennant Grand final Winner
October 28, 2019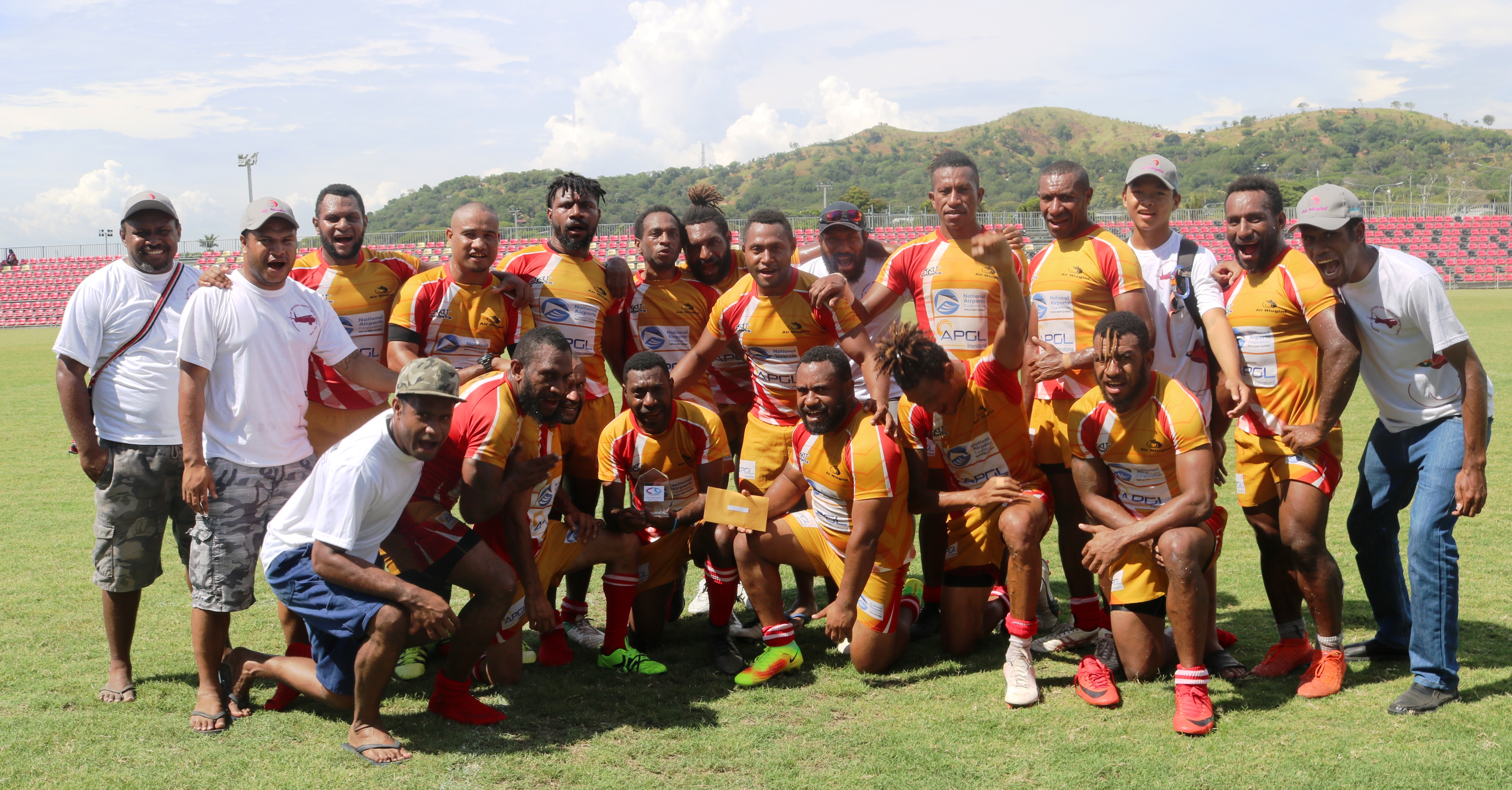 Air Niugini's PX Falcons defeated Avenell Engineering Services (AES) by a close margin of 2 points lead, winning the pennant grand-final of the 2019 Corporate 9s in Port Moresby yesterday(Sunday, 27th October).
The two teams braved the scorching heat at the Bava Park, Boroko as they battled it out to see who would take the top spot.
AES fielded a much younger team who were more athletic, faster in skills and ball work, maintaining the lead in the first half, 16 points to PX falcons 4.
But that didn't stop the more experienced PX falcons from coming back. They surely mean business in the second half, bringing the score-line to level with ASE, 26 all and just minutes before full time, a successful conversion saw them taking over the lead, winning the game by 2 points, 28 to ASE 26.
PX Falcon team manager, Kenneth Kodor said " Playing at 1:30pm was a contributing factor, the temperature was 35-40 degrees Celsius so it favoured the younger, lighter team, which meant we had to be patient and make use of whatever chances came our way."
"The instruction to the boys, however was to maintain patience and play  the full 30 minutes. I had confidence in the boys and they delivered it in the second half.  The AES also played well this year and when at their best, they have beaten stronger teams as proven in the final scores yesterday." Kodor said.
The 2019 Corporate 9s competition in Port Moresby ran for ten weeks with a total 27 teams who participated. These teams mostly sponsored by corporate companies were grouped into 3 pools of 9 teams each.
Kodor acknowledged everyone for their support including those who initiated the idea of corporate 9s, facilitators and the sponsors.
" Thankyou Mr Solomon Ravu and the team at Sportzevents Limited for their initiative in Corporate Nines,  the sponsors NAEA, NAC, APGL International, Air Niugini Apartments, Air Niugini Aviation Security and Air Niugini Marketing for their support, we could not have achieved what we did this year without them."
" Our preparation this year was rushed but we look forward to next year to ensure  as a team we are better equipped in terms of administration, finances and equipment." Kodor concluded
Air Niugini has been part of Corporate 9s competition since its inception in 2007.
In other grand final matches, Westfume defeated Price Waterhouse Coopers for the Bowl, Spidertech defeated PNG Power Blue for the Plate and Funeral Home defeated Goodman Fielders International 14-10 for the Cup
Corporate Communications Department
Monday 28th October, 2019