Air Niugini Awards Best Performing Ports
November 11, 2019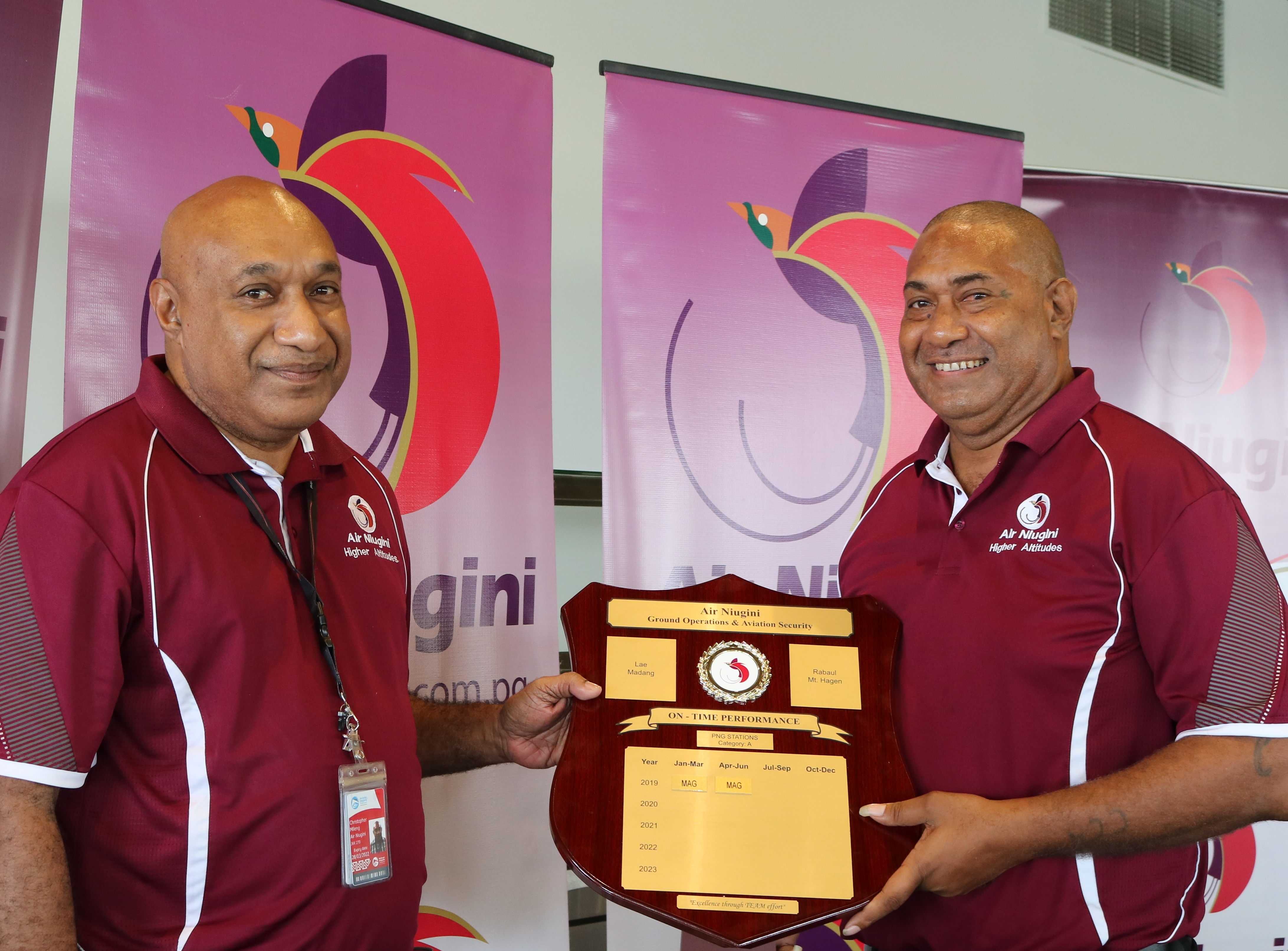 Air Niugini Madang was awarded for achieving the best " On Time Performance(OTP)" in the airline's category A ports for the third quarter of 2019, maintaining the top spot since the beginning of this year.
OTP is measured on the time taken for a scheduled flight to depart from a point of origin to the point of arrival.
Air Niugini Managing Director, Alan Milne in presenting the award, congratulated Madang Port Manager, Henrick Senat and his team for an excellent job in maintaining their performance.
He also encouraged the rest of the staff to continue to work smarter to achieve the 100 percent OTP mark.
He said " We must ensure to meet customers' expectations and deliver on time, every time, even if it means to exceed International Air Transport Association's accepted bench mark of 85 percent, but at the same time we must not compromise safety."
Under OTP, Air Niugini's 23 domestic ports are divided into four categories and according to the number of flights in a day.
Madang together with Lae, Rabaul and Mt Hagen are category A ports that handle up to four flights on a daily basis, followed by Goroka, Wewak, Manus and Hoskins in category B.  Kavieng, Vanimo, Gurney, Buka and Kieta are in category C and all Link PNG ports which are the Dash 8 operated ports including Wapenamanda are in category D.
Hoskins was awarded shield in category B, Vanimo took out the award in category C and Wapenamanda in category D.
Port Moresby is categorized separately from other ports. Its competition is between the three shifts with Shift 3 receiving the overall award and a total of 14 staff under various sections awarded as well.
For the international stations, Brisbane received award in category 1, followed by Singapore in the second category.
On Time Performance continues this quarter to see who wins the overall award for the year.
Corporate Communications Department
Monday 11th November, 2019