FIRST FEMALE LICENSED AIRCRAFT MAINTENANCE ENGINEER (LAME) ON DASH
October 25, 2019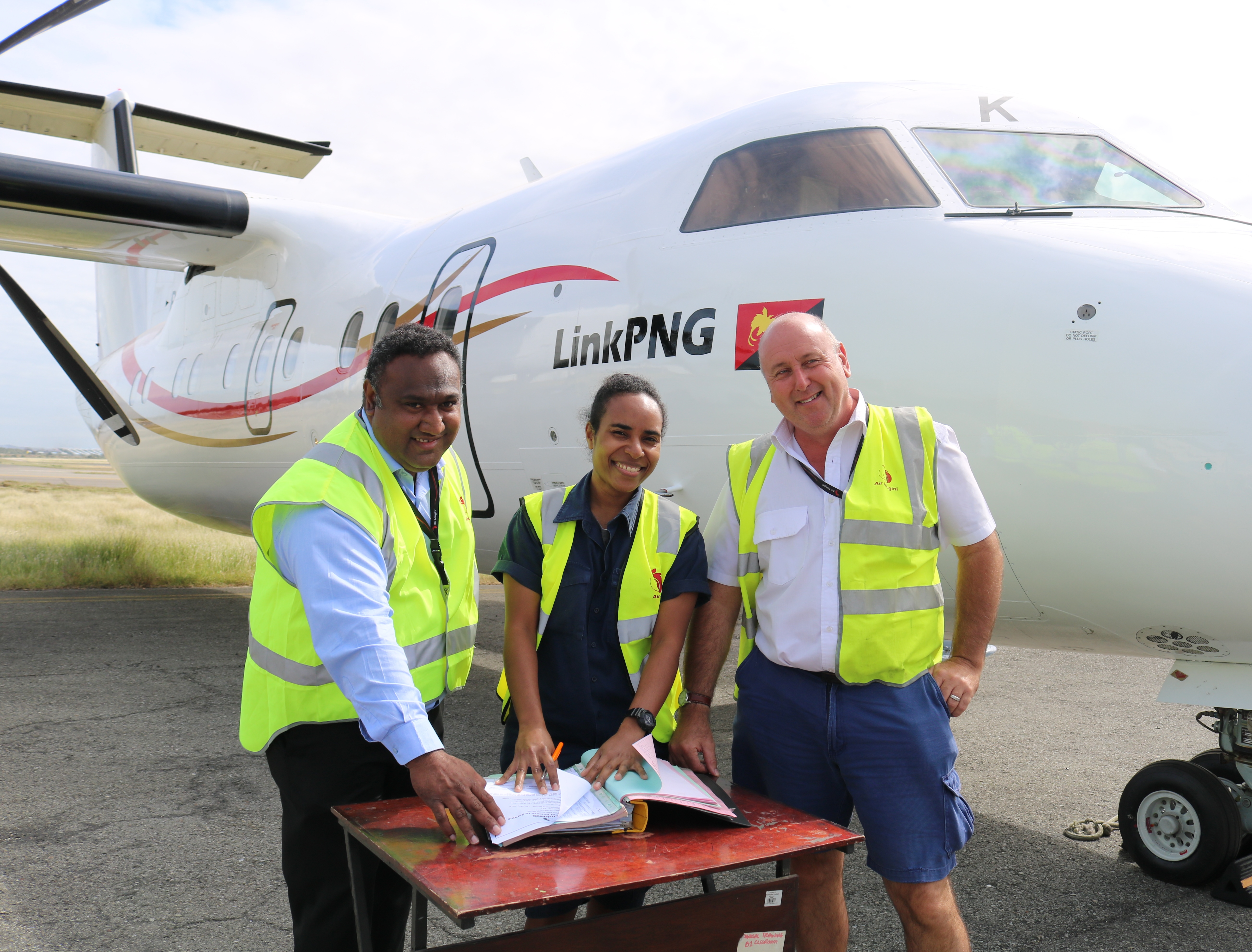 28 year old Elena Mai has become Air Niugini's if not Papua New Guinea's first female Mechanical Licensed Aircraft Maintenance Engineer (LAME) on Dash 8 aircraft.
From a mixed parentage of East New Britain, Gulf and Central Provinces, Elena is one of four female Air Niugini LAMEs, the other three women are licensed on Fokker jet aircraft.
Being a licensed engineer,  Elena can now give approval for the release of Dash 8 aircraft to service following maintenance. Before signing the document of approval, Elena must be satisfied with the works, she thoroughly checks to ensure the maintenance is completed to the highest standard and is carried out in accordance with Papua New Guinea Civil Aviation Rules and Regulations.
The first aircraft Elena released to service was the Bombardier Dash8-200(P2-ANK) on the 15th of May 2019 in Port Moresby.  The aircraft was involved in heavy maintenance checks at Air Niugini's in-house maintenance facility in Port Moresby.  Elena was the section leader of this project which took 10 weeks to be completed.
She said "Being the first Papua New Guinean woman to have signed off or release a dash 8 aircraft to service hasn't really sunk in yet because you work on a day to day basis to achieve company goals and objectives."
" It comes with huge responsibility because you're signing off on something that you deem is safe and air worthy and you must work according to CASA PNG rules and regulations and also aircraft manufacturers' to make sure that you meet all safety standards. "
Elena so far has released four Dash 8 aircraft to service.  Her achievement also proves Air Niugini's continuous efforts to support and empower women in workplace.
Ms Mai is one of four females among total 67 Licensed Aircraft Maintenance Engineers (LAMEs) employed by Air Niugini. The airline also has 51 Aircraft Maintenance Engineers (AMEs) of which eight-women.
Elena has been with Air Niugini for 7 years now where she has done four years as a cadet and three years on the job.  She attended Air New Zealand Aviation Institute in Wellington, New Zealand in 2014 where she did two years of theory and another two years on the job training with Hawker Pacific in Cairns, Australia.
Air Niugini's LAME and coordinator of Heavy Maintenance Checks,  Richard Woolcock explained that the Certificate of Return to Service (CRS) for an aircraft states that all the work has been carried out in accordance with the rules and regulations in force by CASA PNG.
"The person signing this form, MC-34, is signing a legal document to say that he/she is satisfied that all the work is complete," Woolcock said.
Elena finished her formal training 2 years ago and since then had to sit exams for her PNG aircraft engineers licence, an aircraft type course which teaches her the systems on the aircraft.
She then had to sit for an oral and written exam with Engineering's Manager, Quality Assurance to get approval from Air Niugini to be able to sign as a supervisor for the work she carries out and to oversee other staff members for the work they carry out.
"I get a great feeling of satisfaction and achievement knowing that I have contributed to the next generation of LAME to be coming through to take over the engineering here at Air Niugini and beyond.
"As for the fact that Elena is female that is of course of great importance but I treat all the new engineers in exactly the same way and hopefully so does everyone else," Woolcock said.
He added that the training provided for the cadets has been outstanding in every way and this has resulted in not just Elena but many other former cadets performing exceptionally well.
Woolcock highlighted that as an individual, Elena has an outgoing personality which helps a lot when communicating with others in her group, the staff working for her as a LAME and also the more senior staff members.
Elena further added that hard work and perseverance is key,  if you have the right mindset you can achieve anything in life
"Looking at it from a broader perspective, I thank Air Niugini for achieving that milestone, for the investment and for being groomed under this airline as a cadet and then becoming an AME and now a LAME, I am grateful to everyone that has supported me through my journey."
Corporate Communications Department
Thursday 24th October, 2019