Pay Later method of payment
November 26, 2015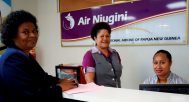 Air Niugini has implemented a new payment method, "Pay later" in all domestic sales offices which allows customers to make a booking online then make payments at the sales office, but within 48 hours.
This new system was implemented last month, September 2015.
It allows option for customers who do not have credit/debit cards to make booking using the internet booking engine. They can now make the booking and pay later using the standard payment methods including cash at the sales office.
Once the booking is made on line (www.airniugini.com.pg) with pay later payment option, the feature would allow for the payment to be made within 48 hours, if not ticketed after that time limit, the system automatically cancels the booking.
The pay later payment system is available in all Air Niugini retail sales offices throughout the country. It's not applicable to ANG's International Sales Offices or agents.
Corporate Affairs Department …..Wednesday 14th October, 2015